Ova poslednja etapa je delom proslava, delom parada, delom kriterijum i delom veoma dug sprint. Konačna destinacija žute majice je već poznata, na ovoj etapi se to neće menjati (iako je u teoriji moguće uzeti vreme na ovoj etapi, ali…) jer postoji nepisano pravilo da je etapa u Parizu proslava kraja Tura. Sprinterski timovi će imati potpunu kontrolu i samo je pitanje ko će imati najviše ljudi da izgaraju na čelu grupe posle 20 brutalnih dana trkanja.
Krug u Parizu nije tipičan kriterijum krug. Obično kriterijum krugovi sadrže uske ulice, oštre krivine i loše puteve. Otkad su na Turu umesto krivine u obliku slova U uveli krug oko Trijumfalne kapije na ovoj etapi bukvalno ne postoji mesto na kome će vozači stiskati kočnice.
Na ovoj etapi ćemo videti sprint. Dešavalo se da opstane beg na Jelisejskim poljima, ali to je ovih dana nezamislivo. Poslednji kome je to uspelo je aktuelni Olimpijski šampion, menadžer Astane, legendarni Aleksandar Vinokurov. Iako je napad velikog Kazahstanca bio impresivan, on je ustvari samo iskoristio neorganizovanost pelotona što se sada, prosto, neće desiti.
IGRA POGAĐANJA PBEDNIKA – pravila nadam se da već znate: ko prvi pogodi pobednika dobija nagradu –FORCE KAPU. Prognoze ostavite ukomentarima ispod do pošetka prenosa na TV-u (obično nekih 14h) > komentari će biti vidljivi posle etape. Svi ostali koji pogode računa im se pogodak za glavnu nagraduFORCE kacigu koju dobija onaj ko ima najviše pogodata za vreme tour-a –
> Sponzor igre je BAJK GARAŽA
R E T R O S P E K T I V A —————————————————- www.bajkgaraza.com
Gotov je i 102. Tur. Pobednici svih klasifikacija su već bili poznati, danas smo čekali poslednjeg etapnog pobednika i proslavu Krisa Fruma. Na 40km do cilja otišli su van Bilsen, Oliveira i Vašon u beg, dugo su držali 30 sekundi prednosti. Na 10km do cilja do njih se preselio bivši nosioc žute majice Roan Denis. Oni su uhvaćeni na oko 5km do cilja i krenula je priprema za sprint. > KOMPLETNI REZULTATI <
Kristof je prvi krenuo, ali po ko zna koji put prerano ostao bez pomoćnika. Prošli su ga Grajpel i Kukar, Nemac slavi četvrtu pobedu, Francuz je morao da se zadovolji drugom pozicijom. Dva Norvežana su bila iza njih, Kristof i Boson Hagen, pa potom Sagan i Demar.
Današnja etapa je bila neutralizovana što se vremena tiče, tako da su svi dobili isto vreme. Momci iz Skaja na čelu sa Frumom stigli su među poslednjima zagrljeni na sred druma, falio im je samo Piter Kenjag. Ovo je treća pobeda za Veliku Britaniju u istoriji na Turu, sve su došle u poslednje 4 godine, a druga pobeda za Krisa Fruma.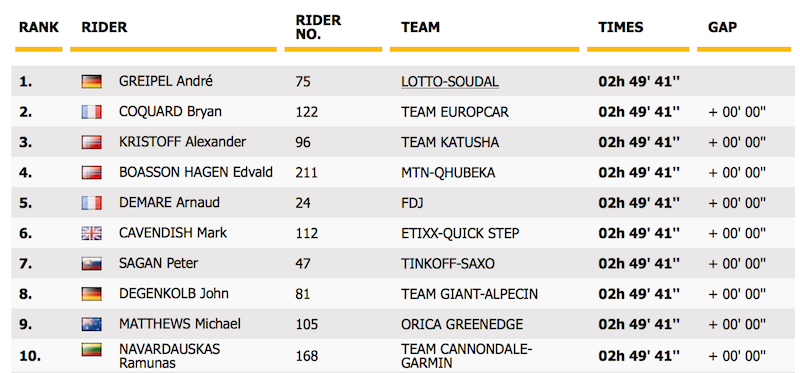 https://www.youtube.com/watch?v=l_7BNifjol8
(BiciSvet.com/cyclingnews.com/Dimitrije Partonjic)
Facebook Comments
comments
Powered by New Facebook Comments