Ova etapa prolazi preko dva mitska uspona trke, Aspena i Turmalea pre nego što se dođe do poslednjeg, ne tako teškog uspona Kauteretsa. Trka se završavala dva puta na ovom usponu treće kategorije, međutim tada se išlo još dalje uz planinu do ski centra, ove godine su organizatori postavili finiš nešto niže, u gradu.
Ako u nekoj planinskoj etapi može da opstane beg, to je onda ova. Favoriti će obnavljati lekcije i oporavljati se od prethodnog dana, samo će preći preko prva dva uspona i sav vatromet će biti sačuvan za poslednji uspon, daleko iza vozača koji su preživeli iz originalnog bega dana.
Obično je pobednik iz bega onaj ko ima najviše sreće, danas sreća nije faktor, pobediće najbolji brdaš. Begunci bi trebalo da naprave veliku prednost do Aspena i Turmalea gde će se najbolji brdaši iz bega učvrstiti na čelu, daleko ispred konkurencije. Možda postoji prilika za glavnu grupu da pokrene lov na spustu i u dolinama ali poslednji uspon je previše blag i snažni vozači iz bega neće imati problema. Ako uopšte dođe do bilo kakve akcije u borbi za generalni, to će se desiti u poslednjih 3km poslednjeg uspona, gde ćemo videti usporen i mučan sprint, sa malim potencijalom za pravljenje razlika.
IGRA POGAĐANJA PBEDNIKA – pravila nadam se da već znate: ko prvi pogodi pobednika dobija nagradu – FORCE KAPU. Prognoze ostavite ukomentarima ispod do pošetka prenosa na TV-u (obično nekih 14h) > komentari će biti vidljivi posle etape. Svi ostali koji pogode računa im se pogodak za glavnu nagradu FORCE kacigu koju dobija onaj ko ima najviše pogodata za vreme tour-a -> Sponzor igre je BAJK GARAŽA
R E T R O S P E K T I V A —————————————————- www.bajkgaraza.com
Prvi uspešan beg ovogodišnjeg Tura kako se i moglo očekivati videli smo danas. Sjajni Poljak Rafal Majka na prošlogodišnja 2 etapna trijumfa dodaje još jedan ove godine, dolazi do velikog trijumfa za Tinkof i malo spasava trku za ovu ekipu usled katastrofe Kontadora u generalnom.
U begu su danas bili Majka, Dan Martin, Toma Vokler, Serž Pauvels, Džulien Simon i Emanuel Buhman. Bili su zajedno do Turmalea gde je Majka otišao i napravio veliku razliku. Dan Martin je imao preko 2 minuta zaostatka pre poslednjeg uspona, išao je kao furija na tom poslednjem brdu, međutim taj uspon je bio prekratak pa se Martin mora zadovoljiti drugim drugim mesto ove godine. Iza njih stiže sjajni nemački šampion Buhman, pa potom Pauvels, Vokler i Simon.
https://www.youtube.com/watch?v=GyXs3_j6Iv0
U grupi favorita, definitivno je otklonjena jedna dilema, Vinćenco Nibali nije u formi i nema snage, danas je otpao na poslednjem ne tako teškom usponu, samo povećao već ogromni zaostatak i sada više nije ni u top 10. Sada to deseto mesto drži sjajni Holanđanin Bauke Molema koji se jedini odvažio na napad iz glavne grupe, stigao je10-ak sekundi ispred Valverdea. Što se tiče ostalih u vrhu generalnog, ista meta isto odstojanje, Riči Port i Gerant Tomas su iskontrolisali situaciju danas, Frum, Kontador, Kvintana, Tidžej i ostali završavaju zajedno u grupi.
GENERALNI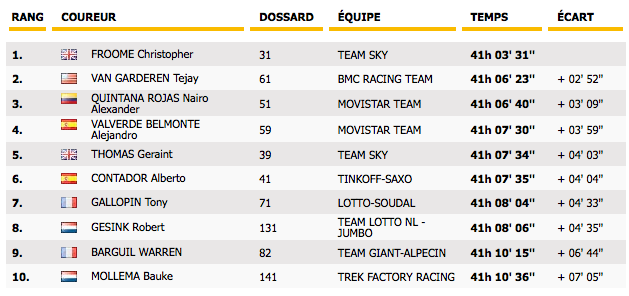 (BiciSvet.com/cyclingnews.com/Dimitrije Partonjic)
Facebook Comments
comments
Powered by New Facebook Comments